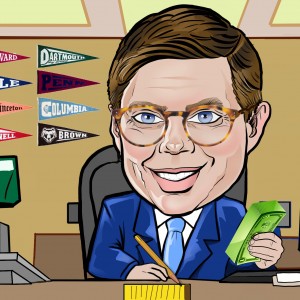 C-826-1392688049
Stuart S. Canzeri
Certified College Funding Specialist®
Other
(404) 513-4865
Private Message Stuart S. Canzeri
ABOUT Stuart S. Canzeri
My name is Stuart Canzeri and I currently serve as a member of the National College Advocacy Group which provides college planning education for college planning professionals, students, and families and is Managing Partner at Peachtree Financial Group.
I hope I can provide you with the information you need to make the best decisions for you and your student. My friends call me Stuart and my clients call me the college financial guy, so hopefully, you will call me both at some point in our relationship.
If you are wondering about my credentials, I started learning about finance at an early age from my father's employer whom actually paid for my education at Tulane University. I feel my father's employer (Nelson Rockefeller) made an investment in me so I could give back and make a difference...that why I do this!
In 1999, I started out in my first job in financial services. For the last 20 years, I have learned about investments, insurance, tax planning, and mortgage debt finance working for large big-name institutions and small boutique operations. I quickly learned that in order to make a difference, you needed to work for your clients and not the name on your business card. So in 2008, after meeting with my like-minded business partner, David Hughes, we set out to change the industry.
Coincidently (divine intervention depending on your beliefs...I choose God), I ran into Michael Horsey, my high school guidance counselor from Georgetown Prep in D.C. and he provided me with the insight that changed how we did college planning at our firm.
Mike was the head of admissions at Georgetown Prep, famously known as the alma mater to Supreme Court Justice Neil Gorsuch. Why do I say this? To brag...not really, but to impress upon you I was coached in admissions by someone whom really knew their stuff.
See, Mike recommended I stay focused on the college financial side and provide an admissions outlet to create something never seen in the industry...a turnkey college planning process that really helps families find the best school and never overpay. This was the founding moment for Peachtree College Planning.
Since 2008, we have been helping families lower the costs of college and set their students up for success in life.
If you want more on my qualifications, keep reading.
I received my BA from Tulane University, MBA from Mercer University and completed the CFP program at the University of Georgia Terry School of Business. I am the co-founder of Peachtree Financial Group, a mid-sized boutique independent financial advisory firm and co-Founder of Peachtree College Planning, a turnkey college consulting and college financial planning firm.
On Sundays, I enjoy volunteering in Waumba Land at Buckhead Church and am happily married to Raven Canzeri. We have two young boys, baby James, JW and a dog named Boomer.
I'm proud to serve as a member of the National College Advocacy Group which provides college planning education for college planning professionals, students, and families. I also am a member of the Association of Certifed College Funding Specialists and our admission group (Professional Education Services) is a proud member of the National Association for College Admission Counseling.
In 2009, I was appointed Commissioner of the Housing Authority of Fulton County and still serves today.
Please feel free to connect with me at www.collegefinancialguy.com or www.peachtreecollegeplanning.com and schedule a free complimentary call.
Designations
MBA - Master of Business Administration

Qualifications
Registered Investment Advisor, a nice guy, surpassed the 10-year test.....I still do this job.  I still like this job. 
I used to have my Series 6, 63, 65, 7 and Series 24 but gave them up so I could become a truly independent financial advisor.
---
Licensed - Exempt
License No -
License Type -
Peachtree College Planning
600 Embassy Row Northeast, 6600 Peachtree Dunwwody Rd., Suite 225
Atlanta, GA 30328
P: (770) 477-1780
F:
www.peachtreecollegeplanning.com
Services Offered
College Financial Planning
Financial Planning
Tax Planning
Retirement Planning
Investment Management
Estate Planning
Cashflow Management
Business Consulting
Financial Aid
FAFSA Review
Scholarship Search
Career Guidance
Admissions Assistance
Essay Writing
ACT/SAT Prep

Meetings Offered
My Office
Over Phone
Webmeetings

---
Availability
Mornings
Afternoons
Evenings
Weekends

CCFS® (Certified College Funding Specialists)
EARNED BY
Stuart S. Canzeri
CCFS® MEMBER ID
C-826-1392688049
DESCRIPTION
The CCFS® certification mark identifies college financial professionals who have met the high standards of competency and ethics established and enforced by the Association of Certified College Funding Specialists.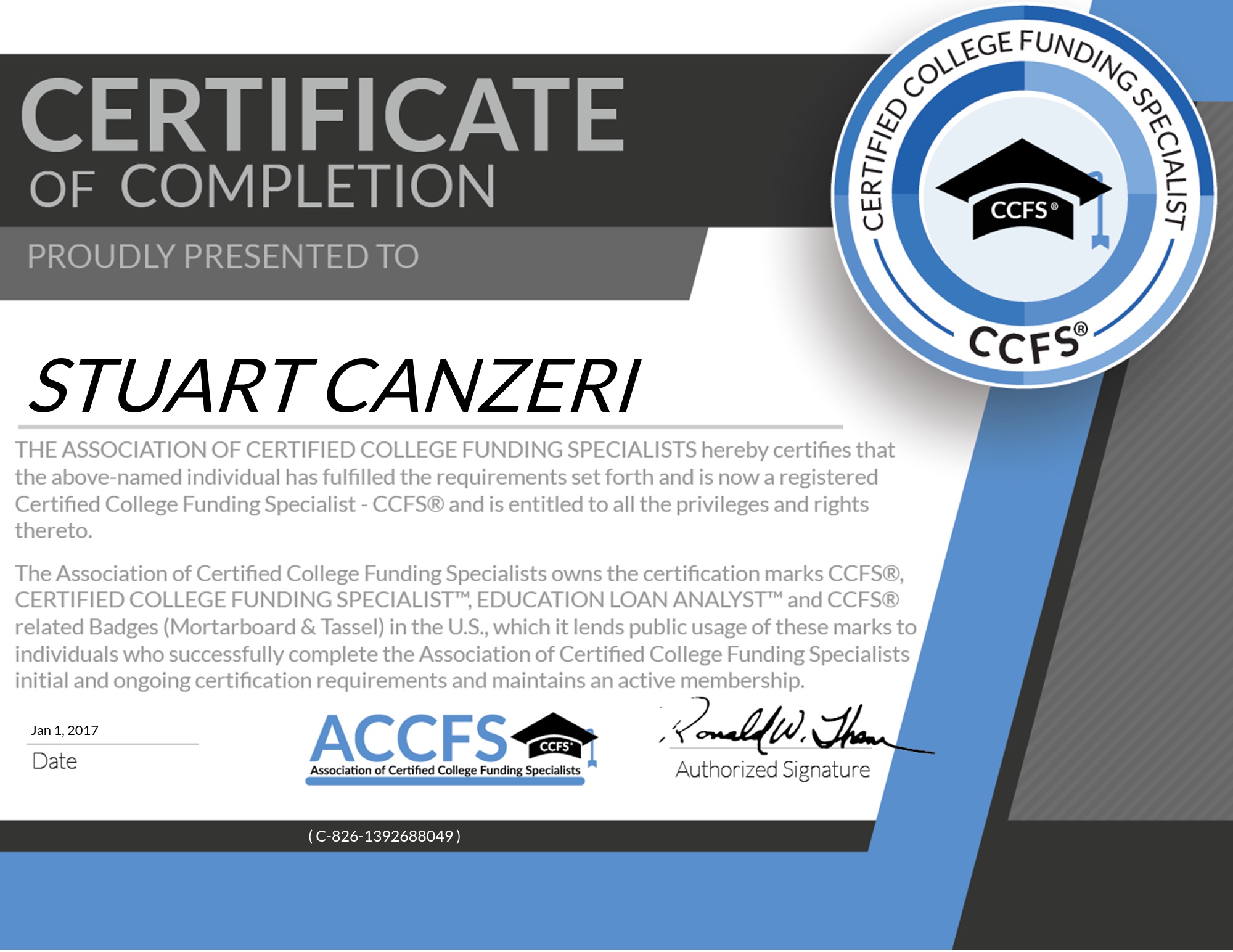 Disclosures