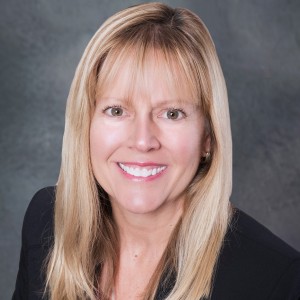 C-1480-1515126216
Susan Trost
Certified College Funding Specialist®
Life & Annuities Agent
(720) 308-4089
Private Message Susan Trost
ABOUT Susan Trost
Knowing I would have 3 kids in college at the same time, I started researching how the whole process works. I read numerous books, took numerous classes and webinars and decided to get my Certified College Funding Specialist and Education Loan Analyst Credentials. There were definitely mistakes I made along the way, but in the end my kids accepted 9 scholarships valued at over $415,000! I'm passionate about helping parents and teens re-evaluate the college process, so neither are buried in debt that impacts their lives for decades to come.

I've been investing for over 35 years and have done many things very well -- and I've learned from things that didn't go as planned. My goal is to lessen your learning curve by sharing my experiences, educating you and encouraging you. I look for opportunities to accomplish multiple goals with the same dollar. I've seen what a difference good planning and strategies can make and want to give all my clients that edge.
I can help you plan for life using a variety of tools, including…
life insurance, annuities, mutual funds and variable annuities.
I enjoy working with…
people at all stages of life, but especially those approaching retirement and small-business owners (an underserved group).
I attended…
The Ohio State University.
I am very proud of…
earning numerous awards for my hard work, including Agent of the Year, Fraternalist of the Year, Century Club and more.
Before I became a financial advisor...
I was in the insurance industry for eight years, owned my own consulting business for nine years, spent a few years staying at home with my three kids (now 21, 19 and 19), and worked in various roles in Health Information Management, Quality Assurance and Technology.
I chose my current company because…
I did a research project for another planner and found 9 out of 10 advisors just wanted to get hold of my money to "make more." I liked the holistic approach to build the plan from the ground up. Building a strong foundation with life, health, disability, long term care insurance and an emergency fund is key. The second project was to research excellent permanent life insurance companies and my company had the strongest performance. I was a former Jaycee (community service and leadership group) and so the fraternal side really appealed to me. I love making a difference in people's lives.
The best part of my career is…
making a difference in people's lives by knowing they are protected and knowing they have a plan/goal in mind for retirement.
A favorite moment in my career was when…
a client who was putting off getting life insurance finally did. Months later, he was diagnosed with a condition that made him uninsurable, but I knew his family was protected for life.
Also…
I love to learn, especially about college planning and retirement. I teach several classes a year through Douglas County Parenting Coalition. I spend at least a week attending advanced training. I also reach out frequently to the wealth of knowledge we have at our corporate office to brainstorm cases.
Designations
Qualifications
I helped my kids secure over $415,000 worth of accepted college scholarships (over $750,000 offered). I teach workshops on Making College More Affordable to parents and teens. I've taken numerous college planning courses. Fraternal Insurance Counselor credentials FIC. Series 6 Securities License.
---
Licensed - Yes
License No - 245606
License Type - Securites & Insurance
Services Offered
College Financial Planning
Retirement Planning
Financial Aid
FAFSA Review
Scholarship Search

Meetings Offered
My Office
Workplace
Home Visits
Over Phone
Webmeetings

---
Availability
Mornings
Afternoons
Evenings
Weekends

CCFS® (Certified College Funding Specialists)
CCFS® MEMBER ID
C-1480-1515126216
DESCRIPTION
The CCFS® certification mark identifies college financial professionals who have met the high standards of competency and ethics established and enforced by the Association of Certified College Funding Specialists.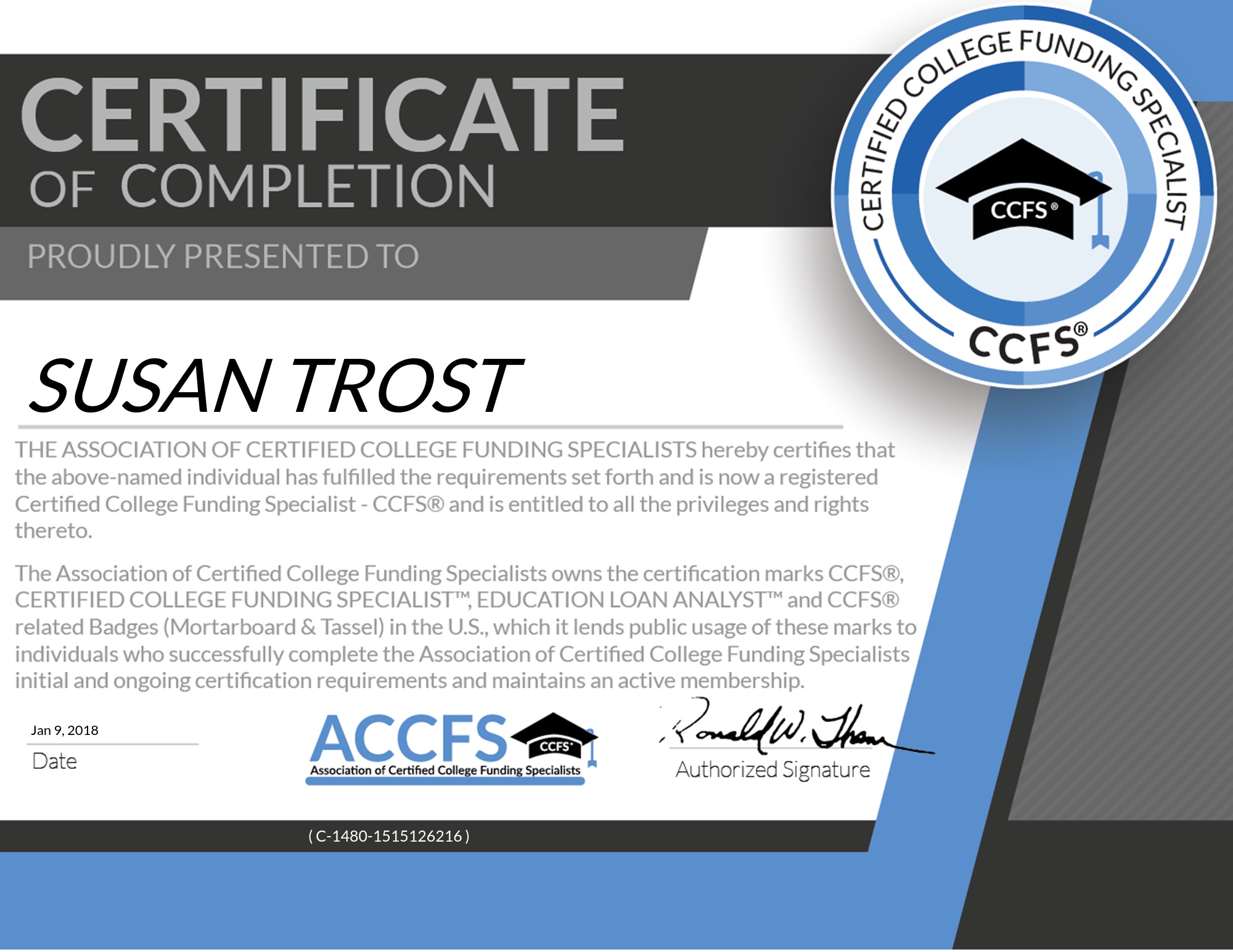 Disclosures